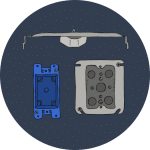 Installing Electrical Boxes
This is an in-depth course on installing electrical boxes. After completing this course, you should understand:
The different types of boxes that are used for fire alarm system installation
How to choose the best box to use for different fire alarm devices
Multiple methods to surface mount electrical boxes (and other things) to sheetrock, concrete and metal surfaces
How to reduce water intrusion into weatherproof backboxes
Multiple methods to improve the aesthetics of surface mounted boxes
How to flush mount electrical boxes in new drywall
Multiple methods to flush mount electrical boxes in existing drywall, including jobs where wire is required to be run in raceway
Multiple methods to flush mount electrical boxes in ceilings
Multiple methods for installing junction and pull boxes
How to use gutters to make fire alarm control unit installation and maintenance easier
How to add a knockout anywhere one is needed
How to connect EMT and other connectors to knockouts that are larger than the fitting
NFPA 70 requirements for box fill
NFPA 70 requirements for labels
NFPA 70 requirements for mixing power limited fire alarm wiring with 110 VAC and other nonpower limited wiring
How to use a MR101C to separate fire alarm wiring from 110 VAC and reduce the likelihood of high voltage damaging fire alarm equipment
For this course, we would like to thank the following manufacturers for lending or donating products:
Kidde
Klein Tools
Potter
Space Age Electronics
Wheelock
Windy City Wire
Estimated time to complete course: 2 hours.
This course qualifies as 2 CPD points.
This course is available as part of the Fire Alarm 101 bundle.
If you have already registered for this course, login to continue.